About Create Inner Peace Program
Almost daily, more scientific evidence is being published which shows that regular practice of yoga and meditation can have immediate and far-reaching impact on an individual. Yoga and meditation can establish a clear, calm, focused, and healthy state of being, even for individuals who are in the midst of intense, high-pressure situations on a regular basis in their daily lives. (See Critical Incident Stress)
Landmark Project Specifically Created for Emergency Services Personnel
The Create Inner Peace project is a landmark project created specifically to help anyone being continually subjected to intense pressure and critical situations. The program uses a combination of Kundalini Yoga, meditation, and healthy food choices to help deal with these release cumulative effects of stress.
Dr. Bibiji Inderjit Kaur Khalsa (Bibiji), developed the Create Inner Peace program to honor the selfless service of First Responders in our society, including physicians, hospital staff, police officers, firefighters, search and rescue personnel, emergency medical technicians, 911 dispatch operators, and other community members.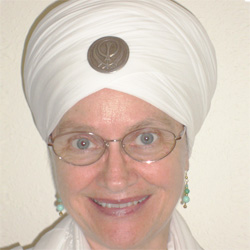 Gurumeet Kaur Khalsa, E.R.Y.T. 500
Gurumeet is Executive Director of Create Inner Peace, (createinnerpeace.com) a Minister of Divinity of Sikh Dharma, Professional Teacher Trainer of Kundalini Yoga, and Associate Professional Trainer of SuperHealth (super-health.net).
Gurumeet studied for more than 30 years with Yogi Bhajan (yogibhajan.com) and served as one of his body guards. She works closely with Bibiji Inderjit Kaur Khalsa, PhD, (bibiji.com) the Bhai Sahiba or Chief Religious Minister of Sikh Dharma, wife of Yogi Bhajan for 52 years, and founder of Create Inner Peace. Gurumeet is a Numerologist, offering readings to illuminate our life's path and energetic connections.
Gurumeet has worked in the security industry for more than 30 years and is a member of the business development team that helped grow Akal Security to become one of the largest, American-owned security companies, protecting critical facilities worldwide that are vital to our national security. Supporting our individual and collective transition to an open heart world and timeless connection to our eternal, sacred being, Create Inner Peace promotes the co-creation of a world of prosperity and peace for all people now.
For more than 3,000 years of recorded history, the care, maintenance, and preservation of the human body have been taught through yoga and meditation in the East. Kundalini Yoga is based on the ancient science of yoga according to the teachings of Dr. Yogi Bhajan (1929-2004), Bibiji's husband of 52 years, who taught Kundalini Yoga throughout the world.
Three Phases of the "Create Inner Peace" Program
In its entirety, this program will have three phases of services for First Responders:
Phase 1: Before events, classes focus on preventive maintenance
Ongoing classes are offered by certified Kundalini Yoga Teachers, along with a self-instruction manual, in stress reduction techniques for First Responders. Specific Kundalini Yoga practices have been selected to build up mental and physical endurance and teach First Responders how to apply self recovery following an event, and assist victims of trauma. More about classes >>
Phase 2: After events, classes provide recovery assistance
Following an impactful event, yoga and meditation instructors will provide classes in yogic technology that facilitates recovery from traumatic events and stress that follows critical incidents. We have created a manual and video DVD that provides at home course study for students. Video excerpts from the video and review or order the manual >> 
Phase 3: Train Trainers
Candidates interested in further studies in Kundalini Yoga and who have the interest and qualifications to become instructors in the technology are invited to attend Aquarian Teacher Training Level 1 Instructor Certification Program in Kundalini Yoga.
This program is being offered by the

New Mexico Office of Health and Emergency Management
This program has been approved by Kundalini Research Institute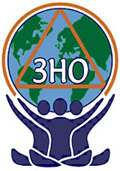 www.kriteachings.org