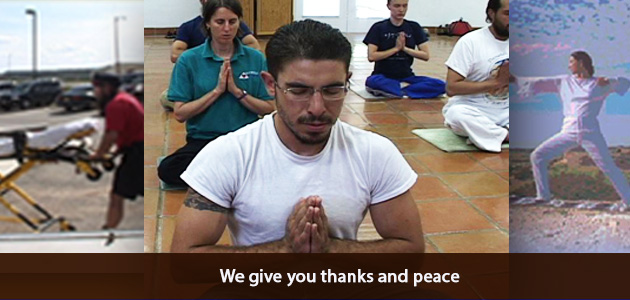 This is a landmark program is offered in conjunction with the State of New Mexico Office of Health Emergency Management and the Department of Health. 
Create Inner Peace offers First Responders classes in Kundalini Yoga and Meditation to help them manage their own recovery from Critical Incident Stress (CIS).
Kundalini Yoga and Meditation Technology to Manage Critical Incident Stress for First Responders
Caregivers working in the state of New Mexico now have an opportunity to learn and practice the technology of yoga and meditation.
Personnel can earn 16 CE Credits for completing 16 class sessions in any of the courses offered. (Reviewed and Approved by the New Mexico EMS Bureau for Continuing Education.)
Bhai Sahiba Bibiji Inderjit Kaur Khalsa, PhD, (affectionately known as Bibiji) developed this specialized Kundalini Yoga training in stress management to honor the selfless service of First Responders in our society, those who protect and care for us during our times of great need, including physicians, hospital staff, police officers, firefighters, search and rescue personnel, emergency medical technicians, 911 dispatch operators, and many other volunteer community members. Create Inner Peace strives to give back to these heros of our society, to help them increase their own core resiliency and transform stress to vitality and strength.
Bibiji originally conceived this program to show this community of super heros her deep and abiding gratitude for the times that they came to take care of her husband, Yogi Bhajan, when he was sick.
To find out more about benefits of Kundalini Yoga for first responders, you are invited to view the Create Inner Peace videos on our YouTube Channel.