EXECUTIVE TEAM OF CREATE INNER PEACE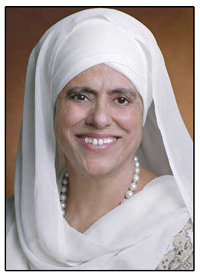 Dr. Bibiji Inderjit Kaur Khalsa, PhD
Bibiji Inderjit Kaur Khalsa, PhD is the Founder of Create Inner Peace. She developed this stress reduction program to honor the selfless service of First Responders in our society. She brings a unique blend of East and West in her treatment modality, combining ancient techniques of the East, with scientific innovations of the West.
Bibiji is the Chief Minister or Bhai Sahiba of Sikh Dharma and is respected as an ambassador of good will, and a wise woman throughout the world.
Bibiji received her PhD in 1989 in Psychology and Counseling from the University of Humanistic Studies in San Diego, California and is a licensed, practicing counselor in marriage and family counseling in New Mexico. She is the recipient of numerous awards for her humanitarian work, including the Kashi Humanitarian Award and Outstanding Woman of New Mexico.
Bibiji was the wife of Yogi Bhajan, PhD (1929-2004) for more than 52 years, the Founder of 3HO Foundation and Siri Singh Sahib of Sikh Dharma in the West. Bibiji gratefully acknowledges her beloved husband, for his vast wisdom and teachings in Kundalini Yoga, without whom this program would not have been possible.
Gurumeet Kaur Khalsa, E.R.Y.T.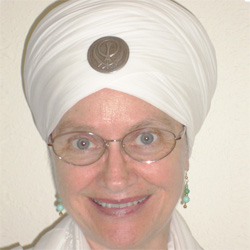 Gurumeet Kaur Khalsa is the Executive Director of Create Inner Peace. Gurumeet is a Minister of Divinity of Sikh Dharma and has been teaching Kundalini Yoga and Meditation for more than 30 years. She studied directly under Yogi Bhajan, PhD, and served as one of his bodyguards. She has worked closely with Bibiji Inderjit Kaur Khalsa, PhD, and is an Associate Teacher Trainer through the International Kundalini Yoga Teachers Association (IKYTA), and Yoga Alliance Experienced Registered Yoga Teachers (E.R.Y.T.).
Gurumeet offers Aquarian Teacher Level 1 and Level 2 Instructor Certification in Kundalini Yoga in conjunction with the Real World Enlightenment and Yoga Southwest Team.
Gurumeet has worked in the security industry for more than 25 years as a manager, trainer, and publisher. She has authored security officer training manuals and received instructor certification in the PR-24 side-handle baton through Monadnock® and the Handler 12 through Gripton International®. Gurumeet is a member of the business development team that helped grow Akal Security to become one of the largest, American-owned security services contractors to the U.S. Government, protecting critical facilities vital to our national security worldwide.
Gurumeet is a producer and script writer of the Create Inner Peace video and the co-developer, publisher, and graphic designer for the Create Inner Peace manuals.
Kamaljit Kaur Khalsa, Ayurvedic Sciences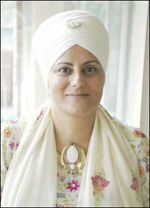 Kamaljit Kaur serves as a consultant to Create Inner Peace in diet and nutrition for stress management. Kamaljit (Vini), founder and CEO of Vinies Veda and Soul of Ayruveda, was born into a family tradition steeped in ancient wisdom and healing technology. Her father and mother, Yogi Bhajan, Ph.D., and Inderjit Kaur, Ph.D., introduced Kundalini Yoga to the West in 1969 and spearheaded the creation of the first Ayurvedic-based businesses in the United States—Yogi Tea, Golden Temple and Peace Cereal—products of which are now sold throughout Europe and many other countries.
Special thanks to Kanchan Kohli, MD, daughter of Kamaljit Kaur, who provided research support for sound health principals and daily health tips for stress management.
For generations, Vini and Kanchan's family households have utilized plants and herbs from the garden in their kitchen for many aspects of daily life. From these daily traditions, Vini and her family learned that herbs and oils possess inherent healing and therapeutic benefits. It is this very lesson she applied to her life when she began to experience the pains of Fibromyalgia.
She began to take Ayurvedic remedies and apply oils to her head and body to alleviate the severe body aches associated with Fibromyalgia. What she noticed was that not only did the Ayurvedic medicines and oil applications take away the throbbing pains throughout her body, but her hair and skin also regained the healthy vibrancy, moisture and luster that were lost at the start of her Fibromyalgia. As she discovered these tremendous, unexpected benefits that Ayurveda brought about in the quality and vitality of her hair and skin, she began exploring the vast fountain of health and beauty secrets contained within the ancient, potent compounds of Ayurveda. Vini worked closely with Masters of Ayurveda, including Dr. Vasant Lad, founder of the Ayurvedic Institute in Albuquerque, New Mexico, and many knowledgeable Ayurvedic physicians in India.
Darla Hueske, MA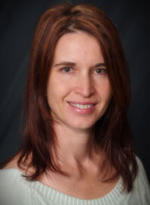 Darla is Director of Communications and Media Arts for the Create Inner Peace project. She is certified instructor with International Kundalini Yoga Teachers Association (IKYTA), Yoga Alliance, and International Association of Yoga Therapists (IAYA).  She has been practicing Kundalini Yoga since 1995, and teaching KY around the world since 2000.
Darla travels and teaches around the world and maintains continual studies and practices with spiritual masters from Eastern and Native American traditions. She splits her time between Egypt and Europe.
Darla received her Masters in Media Arts from New Mexico Highlands University. She is an award-winning media artist, with productions airing on New Mexico Public Television and Santa Fe Film Festival. Her film and photography projects place focus on spiritual themes. She resides and teaches Kundalini Yoga in Cairo, Egypt.
She is the producer and editor for the Create Inner Peace video production. Online portfolio here: http://www.focusonthespirit.com/