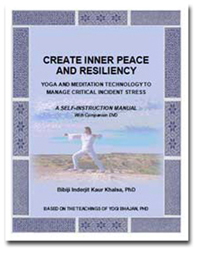 Create Inner Peace Manual
Create Inner Peace and Resiliency, a self-instruction manual in Kundalini Yoga and meditation, has been developed as a complement to classroom instruction from trained and certified teachers. Group learning and practice is an important part of the experience of Kundalini Yoga.
Create Inner Peace Video
An accompanying DVD provides additional information about the impact and application of Kundalini Yoga for First Responders, as well as demonstrations of the exercises and meditations.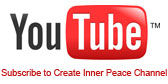 You can find exerpts from the video on Create Inner Peace YouTube Channel
FUNDING AND CREDITS
The self-instruction manual and companion DVD for this project are funded by
State of New Mexico Health Resources and Services Administration (HRSA)
National Bioterrorism Hospital Preparedness Program (BHPP)
New Mexico Department of Health (DOH)
Office of Health Emergency Management (OHEM)
Epidemiology and Response Division
New Mexico Emergency Medical Services Region II
New Mexico Emergency Medical Services Region III
CREDITS FOR CREATE INNER PEACE AND RESILIENCY VIDEO
Creating Inner Peace and Resiliency
Yoga and Meditation Technology to Manage Critical Incident Stress
Kundalini Yoga based on the teachings of Yogi Bhajan
EXECUTIVE PRODUCER:
Bibiji Inderjit Kaur Khalsa, Ph.D.
FUNDED BY:
State of New Mexico Department of Health and Human Services (DHHS),
Health Resources and Services Administration (HRSA), Bioterrorism Hospital
Preparedness Program (BHPP) through the Department of Health (DOH),
Epidemiology and Response Division and New Mexico Emergency Medical
Services Region III
APPROVED BY:
Kundalini Research Institute
PRODUCED BY:
Gurumeet Kaur Khalsa
PRODUCED BY:
Darla (Dev Dharam Kaur) Hueske and Focus on the Spirit Productions
DIRECTED BY:
Fidel Moreno and Native Visions Arts and Communications
WRITTEN BY:
Gurumeet Kaur Khalsa
DIRECTOR OF PHOTOGRAPHY:
Darla Hueske
EDITED BY:
Darla Kaur
SOUND ENGINEER:
Jose Elias Griego
PRESENTED BY:
Bibiji Inderjit Kaur Khalsa, Ph.D.
Kartar Singh Khalsa, DOM
Gurumeet Kaur Khalsa
Kamaljit Kaur Khalsa
GUEST PRESENTORS:
Siri Nirong Kar Singh, Paramedic
Senator Richard Martinez
Judge Marlo Martinez
Sheriff Joe Mascareñas
Dwayne "Bubba" Merritt
NARRATION BY:
Darla Hueske
PARAMEDIC ACTORS:
John PAUL Martinez, Paramedic
Dharam Pal Singh Khalsa, Paramedic
Siri Sirong Kar Singh Khalsa, Paramedic
KUNDALINI YOGA STUDENTS:
Amrita Kaur Khalsa
Elias Griego
Jiwan Mukta Singh Khalsa
Mahan Boyd,Paramedic
Sat Darshan Kaur Khalsa
Amrit Singh Khalsa,Paramedic
KUNDALINI YOGA POSERS:
Siri Om Kaur
Darla Hueske
Gurumeet Kaur Khalsa
and
Suraj Kaur Khalsa, baby (daughter of Sat Shabad Kaur and Sahaj Singh Khalsa, Paramedic)
MUSIC BY:
Jeff Strong
Snatam Kaur Khalsa
Michael Benedik
SPECIAL THANKS TO:
First Responders of Northern New Mexico for their help and
Participation especially Pete Herrera, Ambulance Director  Marissa Salgaso, Paramedic  Karl Kamm, Paramedic
El Paragua Restaurant, Española
Oasis Cyber Cafe, Española
"The moment you value yourself, the whole world values you."
Yogi Bhajan
March 3, 1970