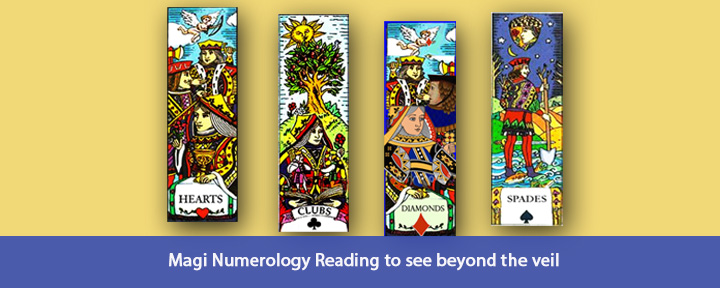 THE MAGI CALENDAR
The science of the cards is an ancient system of telling time and technology for understanding our own life's calendar. Disguised for millennia as our common deck of playing cards, we can tap into this ancient calendar system to illuminate our soul's journey and energetic connections with others. We can view our own lifetime charts that map evolving influences in our soul's journey, as our soul strives to achieve its highest  destiny. Held in secret by the ancient Order of the Magi for thousands of years, this wisdom has been released to the world and is presented according to the teachings of Robert Lee Camp, who was initiated into the Order of the Magi as a Grand Master and charged with sharing the wisdom of the card science.
LISTING OF BIRTHDAYS IN THE MAGI CALENDAR
Thousands of years ago the symbols in our common deck of 52 playing cards, plus the jokers, were created as a calendar and lifetime guide for the earth and all of her children. The 52 cards represent the 52 weeks of the year. The 13 cards in each suit represent the 13 annual cycles of the moon, and the 12 face cards represent the 12 signs of the zodiac. The numbers on all of the cards added together from each of the four suits, equals 364 – the days of the year less one. The joker represents the 365th day of the year, and the 2nd joker represents the extra day in leap year. The four suits represent the four seasons of the year, and the seasons of our lives.
Please hover your cursor over the card that corresponds to your birth day and month. A box will pop up to reveal its meaning. Slower internet connections please have patience as the table loads.
| | | | | | | | | | | | | |
| --- | --- | --- | --- | --- | --- | --- | --- | --- | --- | --- | --- | --- |
| DAY | Jan | Feb | Mar | Apr | May | Jun | Jul | Aug | Sep | Oct | Nov | Dec |
| 1 | | | | | | | | | | | | |
| 2 | | | | | | | | | | | | |
| 3 | | | | | | | | | | | | |
| 4 | | | | | | | | | | | | |
| 5 | | | | | | | | | | | | |
| 6 | | | | | | | | | | | | |
| 7 | | | | | | | | | | | | |
| 8 | | | | | | | | | | | | |
| 9 | | | | | | | | | | | | |
| 10 | | | | | | | | | | | | |
| 11 | | | | | | | | | | | | |
| 12 | | | | | | | | | | | | |
| 13 | | | | | | | | | | | | |
| 14 | | | | | | | | | | | | |
| 15 | | | | | | | | | | | | |
| 16 | | | | | | | | | | | | |
| 17 | | | | | | | | | | | | |
| 18 | | | | | | | | | | | | |
| 19 | | | | | | | | | | | | |
| 20 | | | | | | | | | | | | |
| 21 | | | | | | | | | | | | |
| 22 | | | | | | | | | | | | |
| 23 | | | | | | | | | | | | |
| 24 | | | | | | | | | | | | |
| 25 | | | | | | | | | | | | |
| 26 | | | | | | | | | | | | |
| 27 | | | | | | | | | | | | |
| 28 | | | | | | | | | | | | |
| 29 | | | | | | | | | | | | |
| 30 | | | | | | | | | | | | |
| 31 | | | | | | | | | | | | |